One New Day is a solo exhibit by artist Megan Hildebrandt, it was curated by MICA's Director, Katrina M. Daniels. This ehibit was on view from January 15 to February 28, 2016.
Megan Hildebrandt studied and received her BFA at the renowned University of Michigan and continued her life's journey to the University of South Florida, where she obtained her MFA. During this time Hildebrandt's arresting works of art have appeared from coast to coast in both solo and group exhibitions with pieces residing in both public and private collections. From New York City to Austin, Texas her work can be found in featured spaces ranging from the Museum of Contemporary Craft to the John Hopkins Medical Center. Her repertoire also includes performance pieces that have been showcased at the Baltimore Museum of Art. Hildebrandt's work has also been exhibited internationally in Canada and Panama. When she is not traversing the globe with her art exhibitions she is a professor at the acclaimed Interlochen School in Northern Michigan.
One New Day showcases existing and new work from the artist and includes a site specific installation which the show is named after. The constants in this show are the material (the entire show is made of paper) and the aspect of repetition that the artist uses to an almost obsessive level to explore a variety of themes. This show is also autobiographical, Hildebrandt uses her visual work to explore her geographical relocations, her marriage, motherhood and her life as a cancer survivor.
'How Many Days Until Something Is A Habit' is a series of work that Hildebrandt began when she was pregnant. At this time the artist began to explore what she was giving up during pregnancy and what habits she was developing for this new child. This work symbolizes the human form and the holes represent what the artist gave to her new child. These pieces are acrylic paint on cold-press paper that has been cut with an x-acto knife. In it's finished form the work is 2-D however the artist manipulates the work when it is hung so that the end result is a site-specific 3-D sculpture.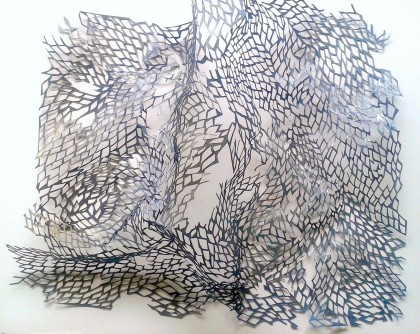 Another series of work that we have drawn from for this show is 'Waiting Room'. This series was created during the artists diagnosis and treatment of cancer. Chemotherapy was used as a treatment and as a result the artist lost all of her hair and became bald. 'Rub', ink on bristol, explores the moments when people (often strangers) would touch the artists' bald head without her consent. Notice the disembodied hands that enter the space. Hildebrandt reflected on a similar experience when she was pregnant and people would touch her stomach without her consent.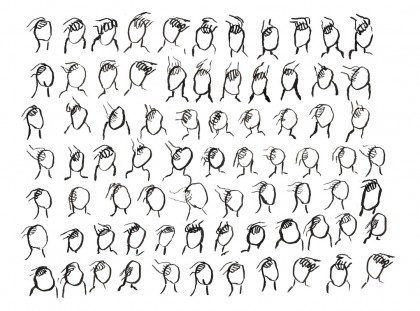 DANCE Lansing: The Community Dance Project is a collective of dancers and choreographers that bring Contemporary movement into nontraditional spaces. This group performs monthly at MICA Gallery. For the February performances the choreographers and dancers reflected upon Hildebrandt's work to explore the themes of Health and Healing. Throughout the ages, cultures have relied on dance to convey emotion, tell stories, communicate and to treat illness. The power of dance to communicate, express, and restore, underlies the ability of dance therapy to heal to this day.
Modern dance therapy, also called dance/movement therapy, finds its origins with modern dance pioneers like Isadora Duncan, Martha Graham and Doris Humphrey. They transformed dance from stylized forms like ballet into a self-expressive, spontaneous form, where individuality was encouraged. The image below showcases a moment from a performance that was inspired by Hildebrandt's work 'Rub', the dancers used movement to express touch, pain, and repetition.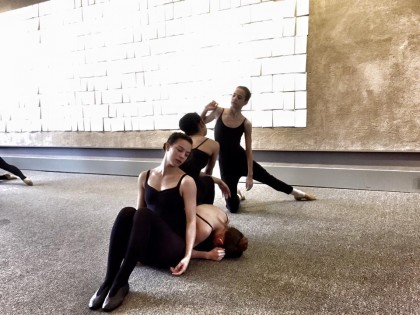 MICA's Director, Katrina M. Daniels, uses innovative programming to foster an understanding of the visual exhibits and to create a connection between the artist, the work and the community.