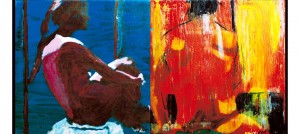 Experience this retrospective of the work of Kathleen Coe. The show will be open March 2-28, with the First Sunday Gallery Walk reception held Sunday, March 4 from 12-4 pm. Download the show poster here.
Kathleen Coe was born August 25th, 1925. This lifelong resident of Lansing believed in lifelong education, and received her BA in Communication Arts from Michigan State University when she was in her early 50s. She continued on to receive an MA in Public Administration from Western Michigan University. Kathleen spent most of her working career with the State of Michigan and retired as a federal grants manager for the Department of Mental Health in 1989.
After retiring, Kathleen traveled to Europe and the Far East. She also created a studio on South Washington Square, where she pursued her interests in watercolor painting and handweaving. Continuing her passion for learning, she began taking fine art classes at Lansing Community College. It's believed that she took every art class that LCC had to offer. She focused primarily on painting the human figure.
Her proudest achievement was becoming an ordained minister in the Fellowship for Today's Church at the age of 80.
Kathleen died on September 25th, 2011, and is survived by her husband Milton; her daughter Julie and grand-daughter McCauley Finnegan of Park City, Utah; and son and daughter-in-law, Alan and Dawne Coe of Lansing.
Kathleen did not display her work in one-person or group shows, choosing to paint for her own personal fulfillment and not to sell. Thus, MICA Gallery is proud to present Kathleen's inaugural one-person show.
Here is what her friend and art teacher Margaret Meade-Turnbull had to say about her work:
Kathleen and I had many conversations about her art over the twenty odd years that she took my class. Most of the talk was about how to improve the piece that she was working on at the time, but she also talked about what she wanted to achieve in her work. Her goal was simplicity and clearness of color but she also wanted to use a closely observed figure in its space. Her method was to draw with line and then paint the shapes.


Early on, in life drawing, I had the class draw with their paper on the floor using a long stick with charcoal attached (a technique that Dave Kleis taught me) in order to get better proportions. This worked with all of the class but Kathleen decided to keep using the stick to draw with. Of course she gave up control, but she achieved a sensitive line and good proportions.


Kathleen was concerned about the number of paintings that she had to store. I can't remember if I suggested working smaller or if it was her idea, which doesn't really matter because she liked the result and it became her trademark. I recall seeing her pieces hung in the LCC student art show with the gallery lighting and they jumped off the wall like little jewels.


Kathleen's "zingers" kept my class laughing, giving us a chance to relax when things got too serious. Thank you, Kathleen!