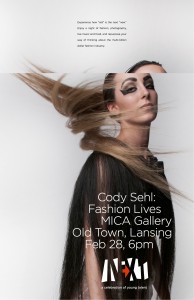 Cody Sehl: Fashion Lives
February 28, 2014
6:00pm
Cody Sehl's garments will come to life with live mannequins! The NEXT event will be participatory inviting guest to model. Cody creates one of three sketched designs. During the construction guests will have their hair and make up done. After one hour there will be a short runway show. This all will happen in lively environment of uptempo music & finger food!
The NEXT event on February 28 previews the larger Style Michigan Fashion show on May 16th that will include designers from across the state and potential buyers/boutique owners.
Style Michigan's mission is to enhance the education and development of young people in the areas of the garment industry by providing hands-on real world experience. Our goal is to provide the resources and relationships to elevate you to the next strata of creative greatness in Michigan's garment industry.  As a hub connecting young people across the state, Style Michigan positions young people to pursue creative passions while building professional skills in the garment industry.