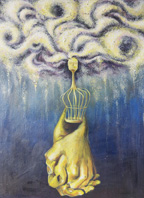 Come out to the MICA Gallery for February's show, featuring Okemos artists June Bang, Joo Yi & Jennifer Kang! The show opens First Sunday, February 5, with the artists' reception noon to 4 pm that day. The show will remain open through February 29, 2012.
June Bang shares work including her "Victim Series," which is inspired by her thoughts on the wars of the last decade. She notes that "Often times, creating an image is easier than making a sentence." The other works are based on personal experiences and old journals.
Jooyeon Yi is excited by compositions of colors and shapes. Her work is shared at Lansing Community College.
Jennifer Kang (also known as Yoon Ju) is a young, blooming artist in Michigan. Jennifer first began showing interest in art through photography, then developed interest in graphite, charcoal, clay and now, oil paint. A program at the Rhode Island School of Design last summer convinced her to pursue art as a profession. Her inspirations include Eveline Tarunadjaja, Edward Hopper, Gustav Klimt, Nirrimi Hakanson, and Wayne Thiebaud.