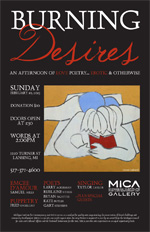 Steam up your Valentine's weekend by joining us Sunday, February 10, 2013 for love poetry at Burning Desires, held at MICA Gallery! Doors open at 1:30 pm and words begin at 2:00 pm.
Performers include:
Sam Mills, emcee d'amour

Larry Ackerman, author of over 1,900 haiku and senryu and president of Lansing Poetry Club

Fred Engelgau, master puppeteer
Ruelaine Stokes, a poet, photographer and teacher who coordinates the Old Town Poetry Series
Bryan McAttee, a young, polished poet from Capitol Steps and Listen Up! Poetry
Kate Butler, passionate poet and professor of tort law at Cooley Law School

Gary Stephens, Lansing Poetry Club member

Taylor Taylor, soon-to-be-sixteen year old guitar and voice marvel who has performed on numerous stages (such as the 2011 Old Town BluesFest) and has her first CD out
A donation of $10 is appreciated.