Artist Spotlight: Katrina M. Daniels discusses Curating Roots | Sept. – Oct. 2015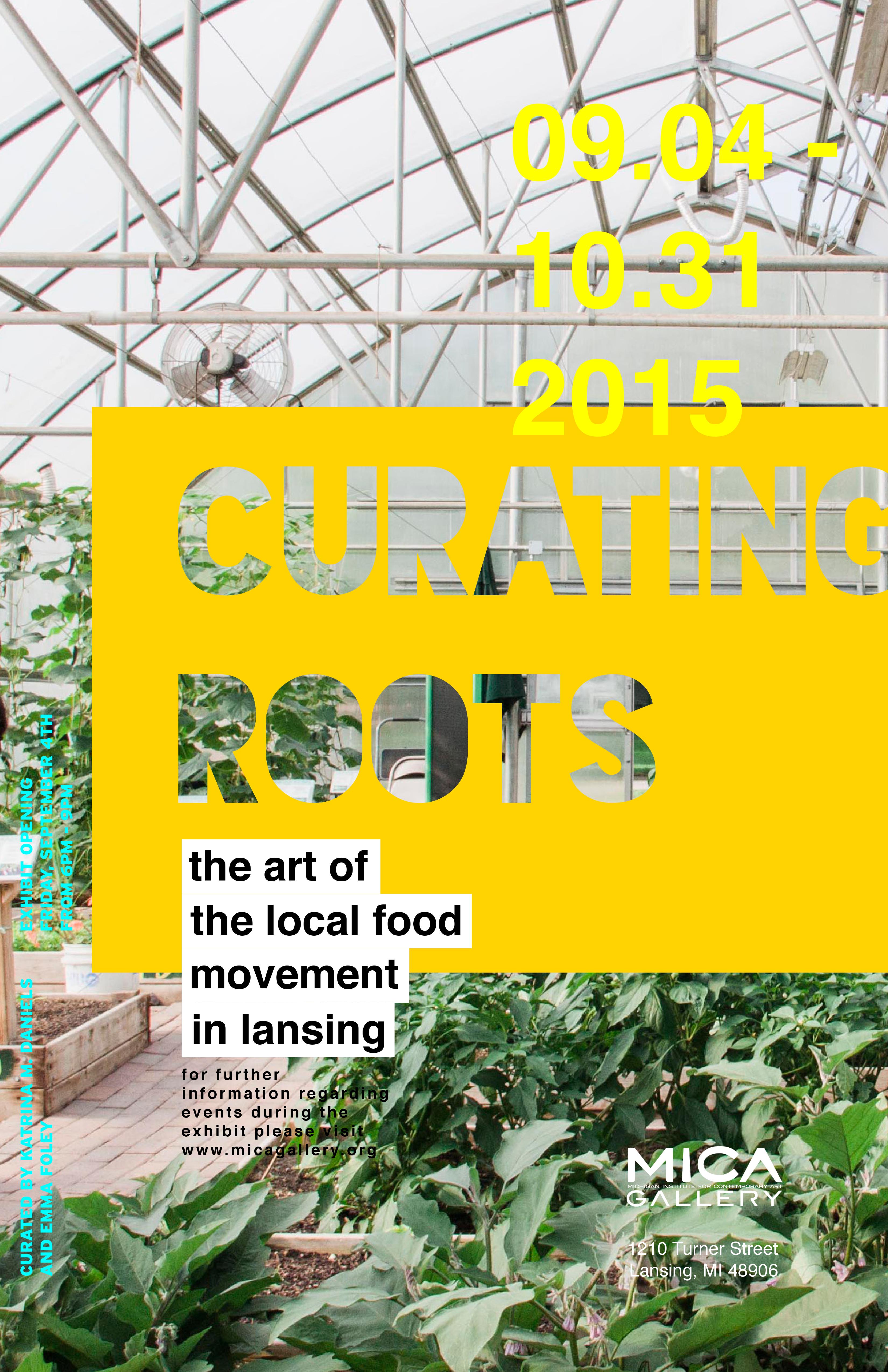 Curating Roots: The Art of the Local Movement in Lansing was a multi-media exhibit that used visual art to celebrate the vibrant local food movement in the Greater Lansing Community. This exhibit was curated by MICA Director Katrina M. Daniels with assistance from intern Emma Foley, this was on display from Sept. 4 – Oct. 31, 2015.
As the Director of MICA, Daniels also curates exhibits and develops corresponding mission-based programming. The idea for this exhibit came from reflecting on the fact that September and October is a time of harvest and members of the Greater Lansing community would be harvesting locally grown food from their urban farms, shopping at one of the many farmers markets in the area or perhaps enjoying a meal at one of the areas farm to table restaurants. The local food movement is in Lansing is rich with community gardens, workshops, and sustainable food focused non-profits. Daniels wanted to use art to celebrate this beautiful and unique aspect of Lansing, MI, thus Curating Roots: The Art of the Local Food Movement in Lansing was developed.
This is a broad topic to discuss and Daniels knew that she wouldn't be able to fully explore every aspect of this movement, however, the exhibit could still be used to create awareness, start conversations and lead the community to other resources and information. For this exhibit Daniels decided to use art work to represent the connection between food and community, non-profit organizations such as the Allen Neighborhood Center, the Roots Farm, the Hunter Park Garden House as well as some of the individuals who are involved. Included was a series of work from artist Amanda Greishop who used photography to document a year long cycle of a family owned and run Urban Farm and a CSA (community supported agriculture) program.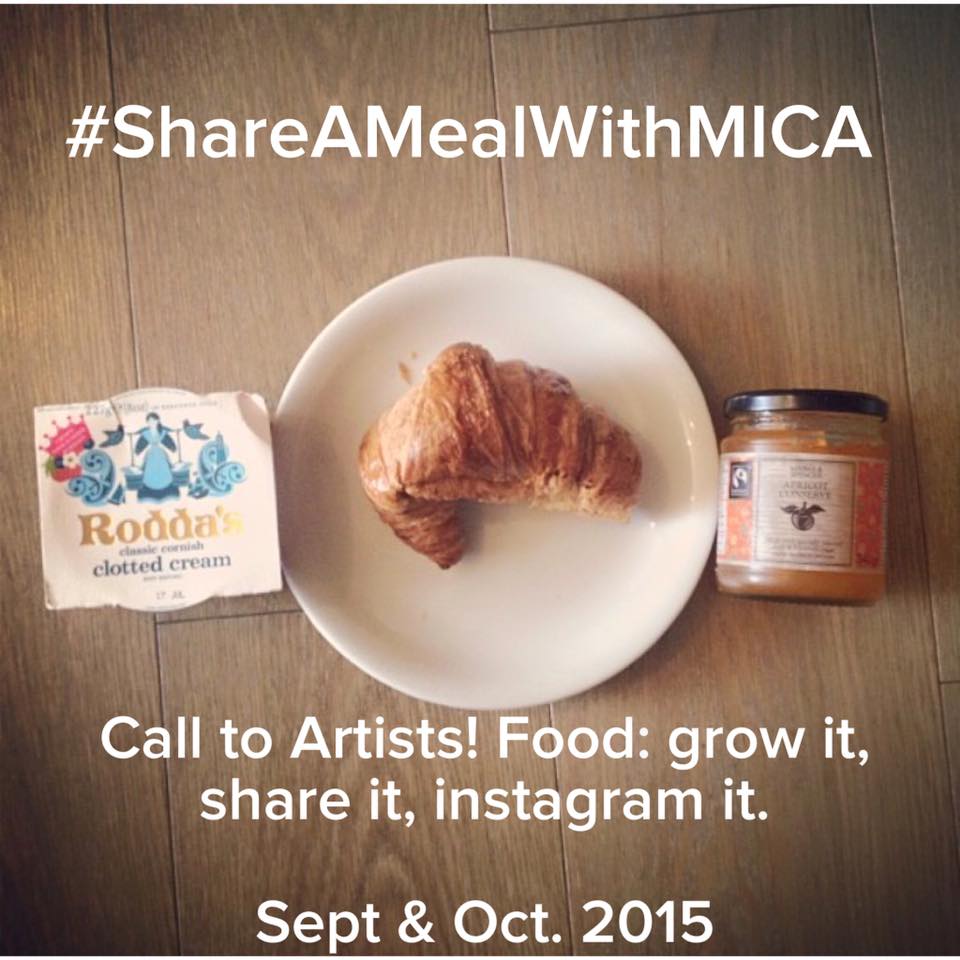 Historically food has been a common subject of art; it is possible to argue that "food art" (the representation of food in art) is as old as art itself. In order to further engage with the community inside and outside of the gallery space, Daniels chose to utilize technology and social media; specifically Instagram. Since it's inception in 2010 images of food and meals have been a prominent feature. In the 21st Century technology has allowed us to capture images of our food and share them publicly. Daniels asked the community to take pictures of their meals and use the hashtag #ShareAMealWithMICA, resulting in an Instagram wall of printed photos in the gallery. The utilization of this hashtag allowed the community to actively contribute to this dialogue of food and art.
In addition to the physical exhibit, Daniels also developed programming that celebrated the same themes. The robust and innovative programming began at the opening reception. The opening was a multi-sensory experience that celebrated the connection between food, art and music. Musician Chelsea Koziatek and band played a repertoire of chamber music while custom made tapas dishes from the farm to table restaurant Soup Spoon Cafe which had been created based on the music, were served.
Listen to a podcast from Current State here that includes interviews and sound bites from the opening reception.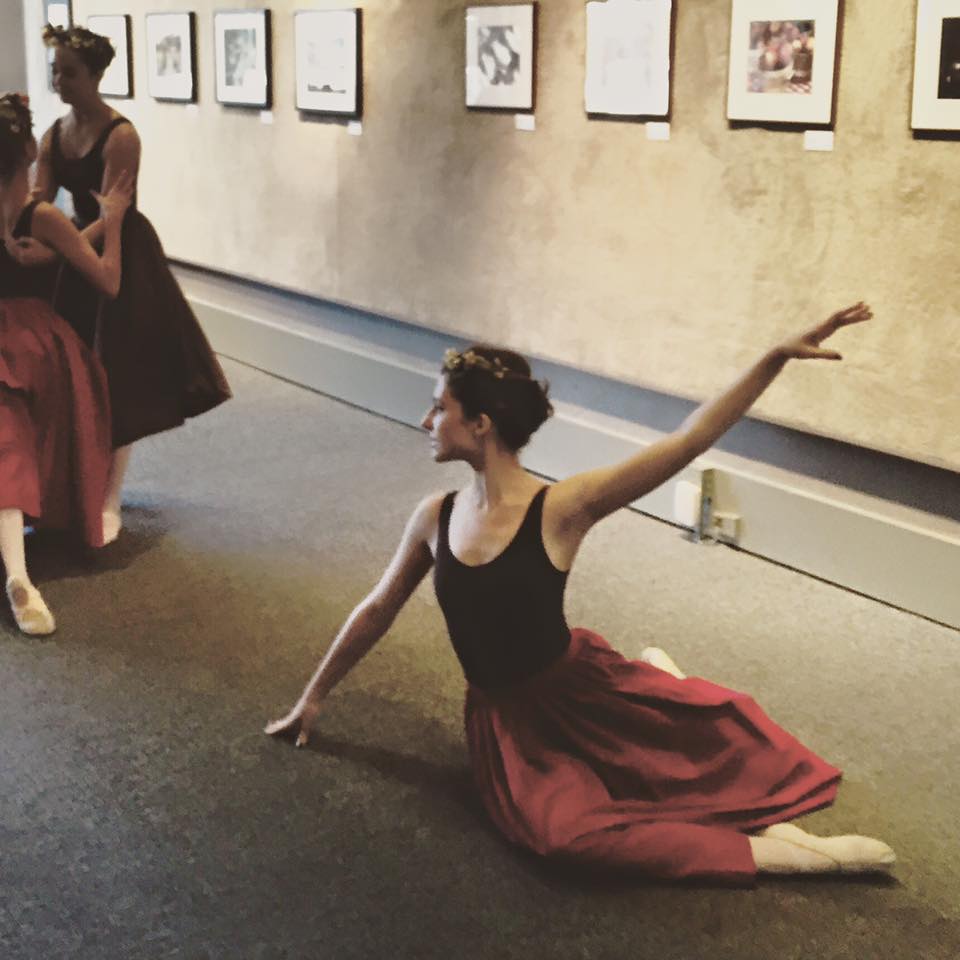 Each month MICA Gallery hosts a dance performance at the gallery, the dancers show that contemporary movement is often inspired by contemporary art. In October, the performers of DANCE Lansing choreographed a performance entitled Roots. This performance used movement to address the themes of agriculture, harvest, gathering and community – some of the subjects that ground us to our planet. The photograph to the right shows dancers performing a ballet inspired by the traditions of harvest and gathering.
An important element of the local food movement that Daniels also wanted to showcase was the fact that it is a circle that includes a market for the food and goods to be purchased, this movement doesn't end with the harvest. In that vain, Daniels partnered with Bloom, a local coffee roaster for two tasting events that offered the community an opportunity to taste artisanal coffee and locally sourced food pairings. The proceeds from these events were then given to the Cristo Rey Community Center a basic needs center to help support their food justice programs.
Curating Roots: The Art of the Local Food Movement used art and programming to engage with the community, create awareness about food justice and the local food movement all while supporting our local farms and businesses. Daniels feels strongly that art is a powerful tool to create conversation and community engagement.
The Lansing Public Media covered the opening reception of Curating Roots and created a video with interviews and more, please watch below:
CLIP Curating Roots @ MICA Gallery from Lansing Public Media on Vimeo.